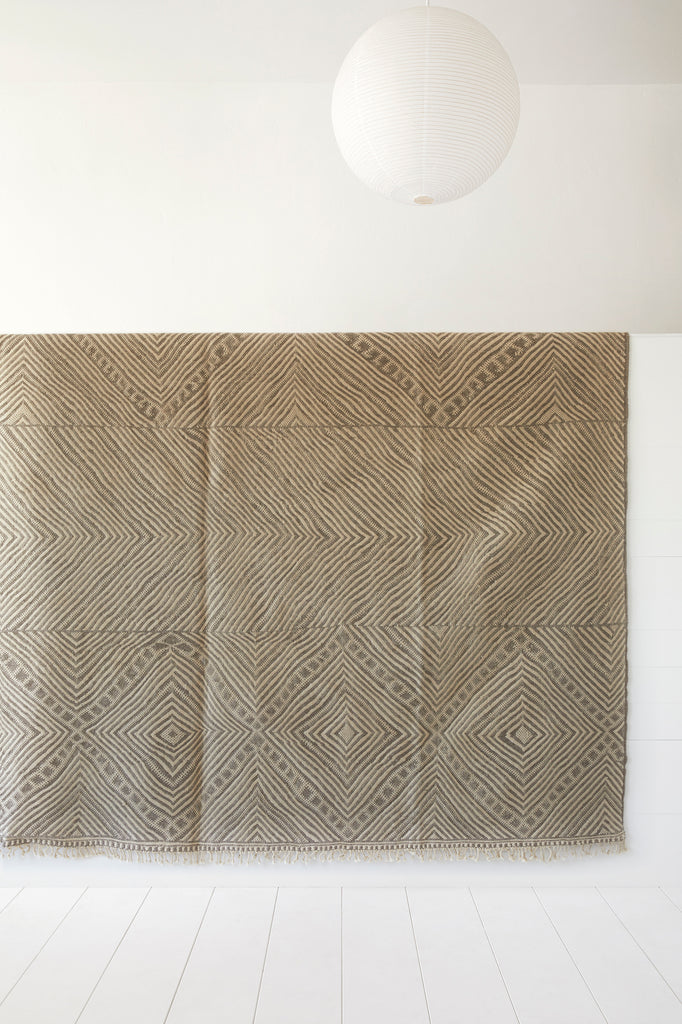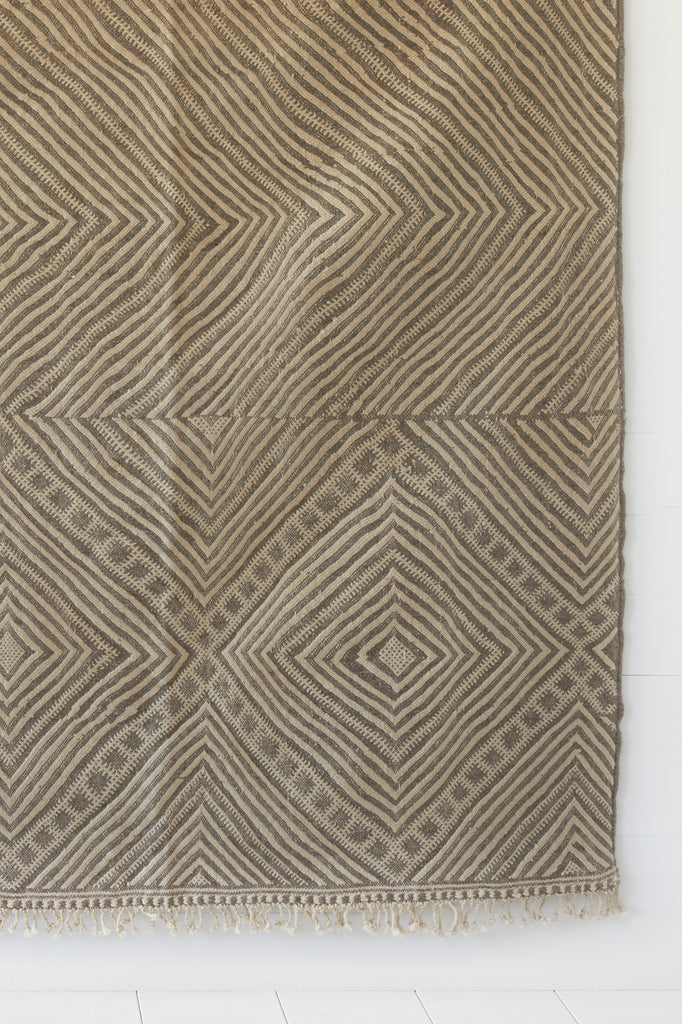 $5,780.00
$6,800.00
No. 06 - Moroccan Flat Weave Kilim Rug - 12'-1" x 16'-6"
Handcrafted in morocco
In Stock
STORY + DESCRIPTION
Dimensions: 12'-1" x 16'-6"
Our collection of flat woven Moroccan Kilim Rugs are selected for their classic bold and intricate geometric designs in a versatile two-tone colorway. Timeless and traveled, they make the perfect statement piece for any living area or bedroom. This rug features intricate thin lines with a large diamond pattern and two sides of fringe. It is the perfect size for placing under a queen-sized bed or creating a cozy foundation for two lounge chairs in your living space.
The craft of making these rugs is an ancient one, passed down from the tribal women of the High-Atlas Mountains from one generation to the next. Each rug is crafted by a single artisan over the course of weeks. They are inherently unique and one-of-a-kind, each reflecting the personality and mood of the woman weaving it. This Kilim rug is made from tightly hand-woven sheep's wool yielding a flat surface with no pile. 
DETAILS + DIMENSIONS
Dimensions: 12'-1" x 16'-6"
Material: Natural Ivory and Black Colored Wool
Regular care:
Vacuum your rug frequently with suction only. Do not use a vacuum cleaner that has a beater bar or rotating brush on it.
Cleaning:
Spot clean stains with gentle soap and water. Gently agitate and blot until clean. To eliminate odor or allow to fully dry after spot cleaning, let it sit out in the sun for the day.
For a full rug cleaning, we strongly recommend a professional rug cleaner who specializes in vintage rugs.
SHIPPING + RETURNS
Shipping Time:
Approx. 2-3 weeks to ship within CA, and 3-5 weeks anywhere else in the US
*Note that shipping ranges listed are estimates.
Shipping Cost:
$99 - Flat Rate
Eligible for return within 30 days of delivery. Read more about our return policy here.