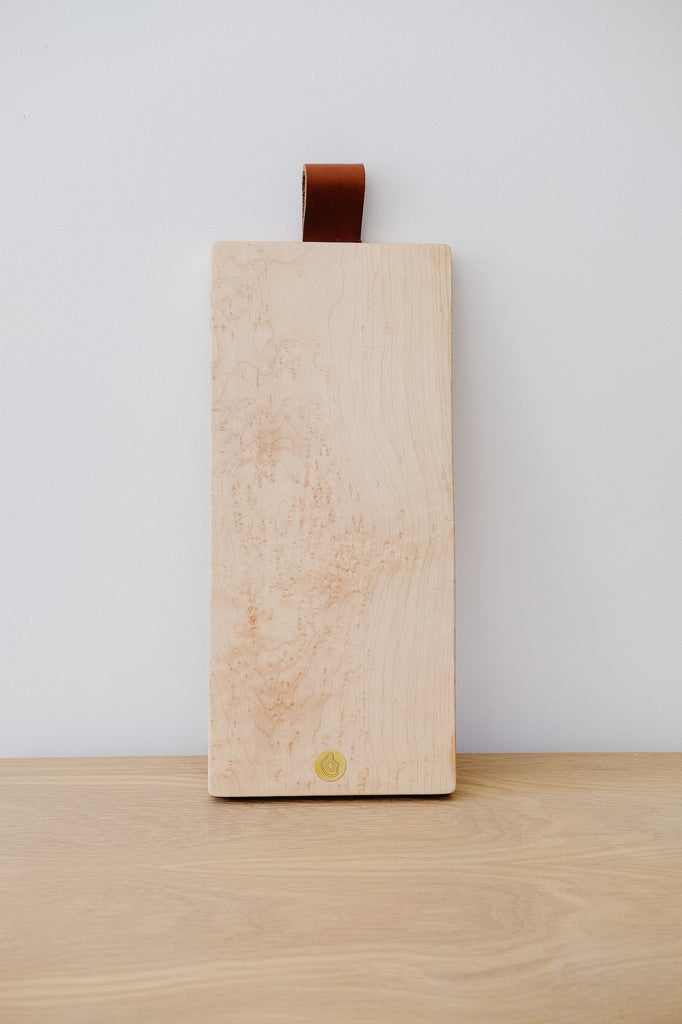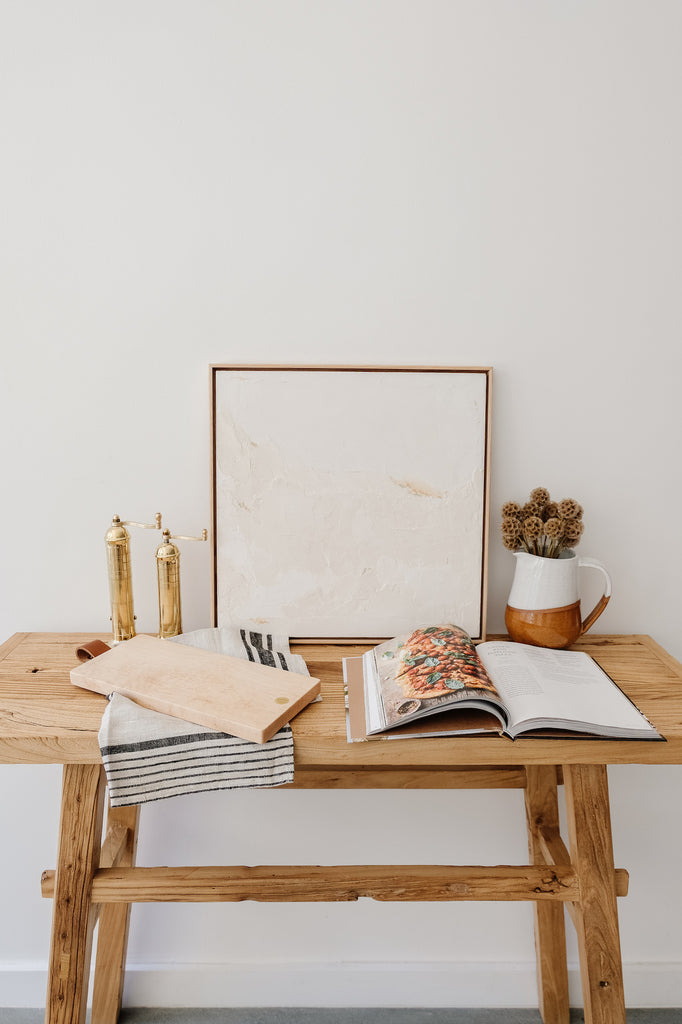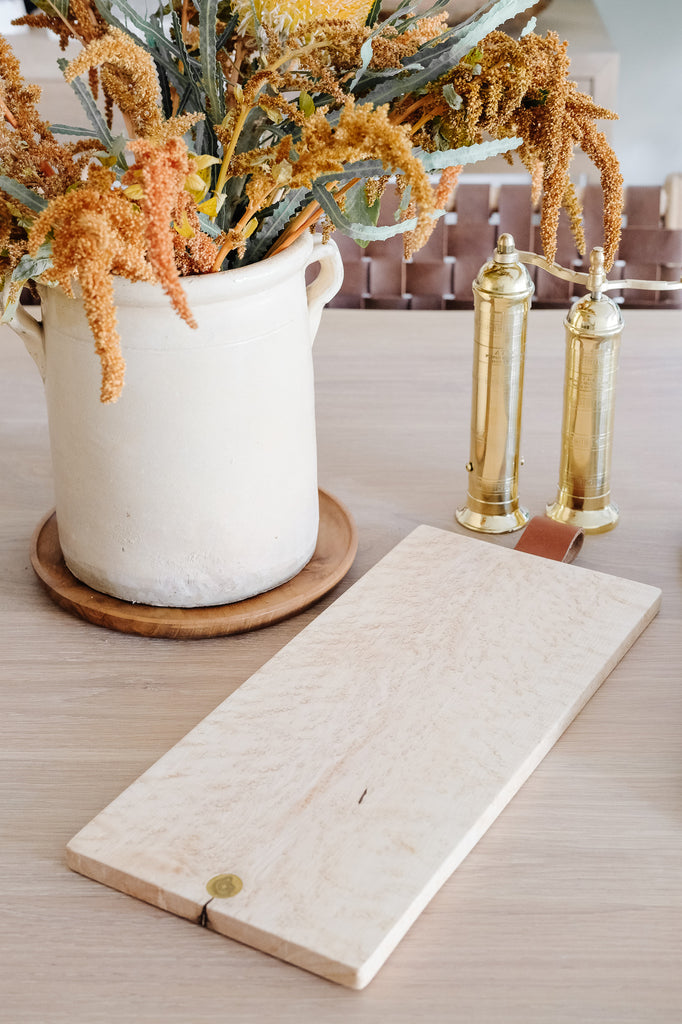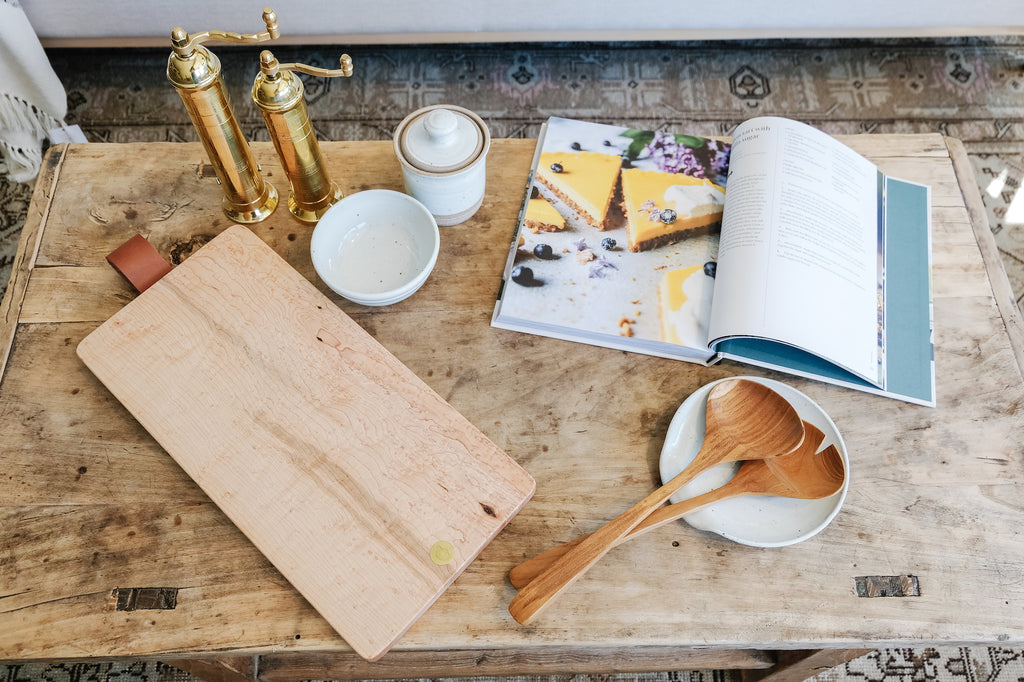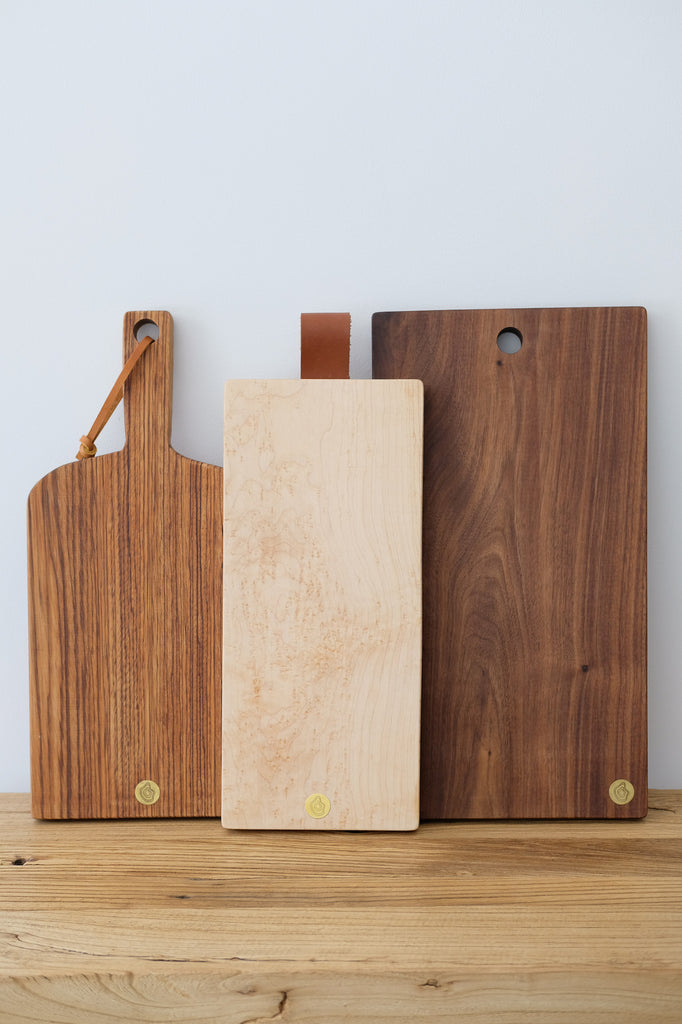 $125.00
$0.00
Studio Inko Bird's Eye Maple Serving Board
Handcrafted in California by
Available for Pre-Order. Lead Time: 4-6 weeks
STORY + DESCRIPTION
Handcrafted and hand-finished out of solid bird's eye maple, this Studio Inko serving board was made to fit perfectly into the contemporary home. The beautiful swirls and patterns of the maple wood grain only occur naturally in less than 1% of all Sugar Maple trees, making it both very rare and unique. The special patterning makes this board the perfect surface for presenting cheeses or hors d'oeuvres, while the sturdy composition of the maplewood also makes it ideal to cut bread or prepare dinner ingredients. Because no wood piece is the same, each board will have its own unique wood grain and patterns. 
Studio Inko Woodshop is a one-woman-run business based in Mill Valley, CA that creates wood pieces meant to be used and cherished for years to come. Each board features a transport-friendly leather strap, making it easy to grab and bring along on a picnic or hike. The strap features a raw brass grommet that allows your board to hang on display in your kitchen when not in use. Over time, the wood surface, leather, and brass logo inlay will develop a lovely patina, a reminder of all the wonderful meals prepared and enjoyed with family and friends. 
DETAILS + DIMENSIONS
Material: Bird's eye maple and leather
Approx. Dimensions: 16.5" L (including leather strap) x 8.5" W x 3/4" Thickness
Note:
Please note that each board is crafted from natural, solid wood and thus grain, color, and appearance will vary. Due to the handmade nature of each board, there may be slight variations or imperfections that we believe make each piece beautifully unique.
Wood is an organic material that changes through time and use. It can become dry and crack if not maintained correctly. Your board is seasoned with multiple coats of food-safe mineral oil and beeswax. To ensure that your board lasts for years to come and retains its original beauty, it is important to clean your board after each use. We also highly recommend oiling your board once a month with a food-safe mineral oil to give it a rejuvenating finish and to protect the wood from any damage.
Cleaning: Brush off crumbs and food scraps and lightly rub the surface with a soft soapy sponge. Remove soap with a damp towel and then immediately pat completely dry with a clean, dry towel. Do not soak your board or clean it in a dishwasher. If the wood grain swells or becomes bumpy, just lightly sand with a high grit sandpaper and apply mineral oil.
Applying mineral oil to board: Using a food-safe mineral oil (easily found at your local hardware store or on Amazon), coat your board with thin layer of oil. Allow 30 minutes to soak. If the oil has disappeared after 30 minutes, then apply another coat of oil. Repeat this process until you see a small amount of oil remaining on the surface of the board following the 30-minute waiting period. Remove excess oil with a clean rag or paper towel and flip board and repeat on bottom side if desired.
SHIPPING + RETURNS
Standard shipping rates apply. Eligible for return within 30 days of delivery. Read more about our return policy here.