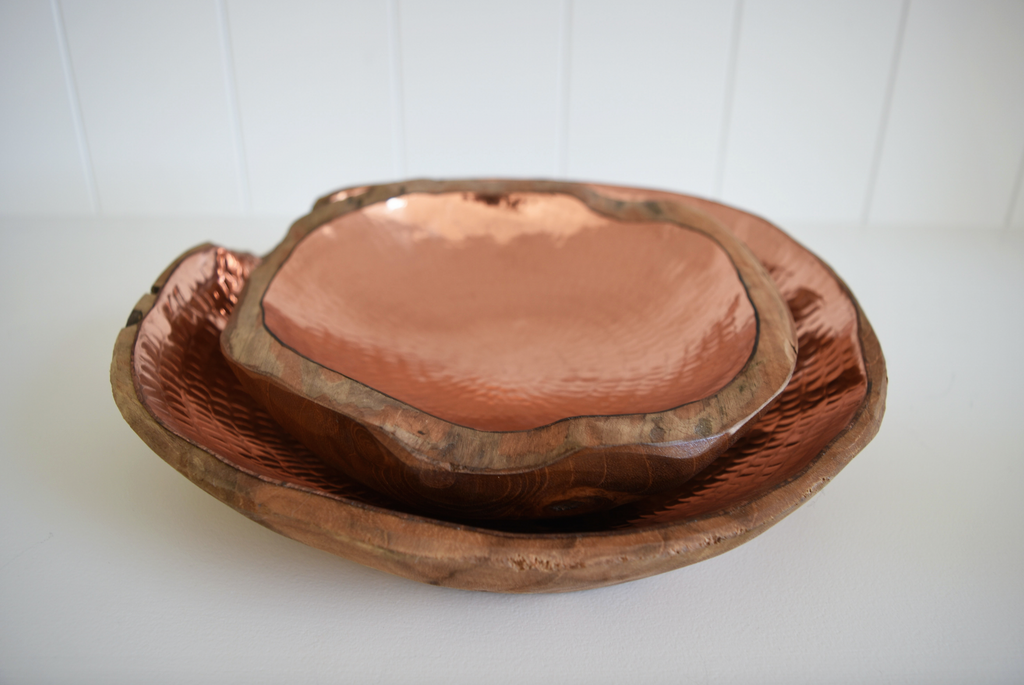 $75.00
$0.00
Hammered Copper and Teak Bowl
HANDCRAFTED IN BALI
STORY + DESCRIPTION
Elevated and organic, these copper and teak root bowls make a natural yet luxurious accent to any space. We love to show them off styled on a console, table, or collected shelf. Accessory meets art when paired with our wood Bali Beads draped in the bowl or used as a decorative landing spot for collected treasures. But feel free to put these lovely bowls to work as a catch-all by an entryway or by your bedside. Featuring hand carved teak root in a natural matte finish lined with a hammered copper interior finish.
Each bowl is unique due to the natural variation and shape of the teak root. Handcrafted in Java and finished in Bali.

DETAILS + DIMENSIONS
Dimensions:
Small: 8" Dia.
Medium: 10" Dia.
Large: 12" Dia.
Care:
Wipe wood and copper with a damp cloth and dry immediately.
The natural Teak wood is unfinished so shouldn't have any oils or finishes applied to it, otherwise it will take on a more yellow/orange tone. If any marks or dirt appear over time you can just wash them off with water, and if that doesn't work sand them away with a fine sandpaper!
SHIPPING + RETURNS
Standard shipping rates apply. Eligible for return within 30 days of delivery. Read more about our return policy here.