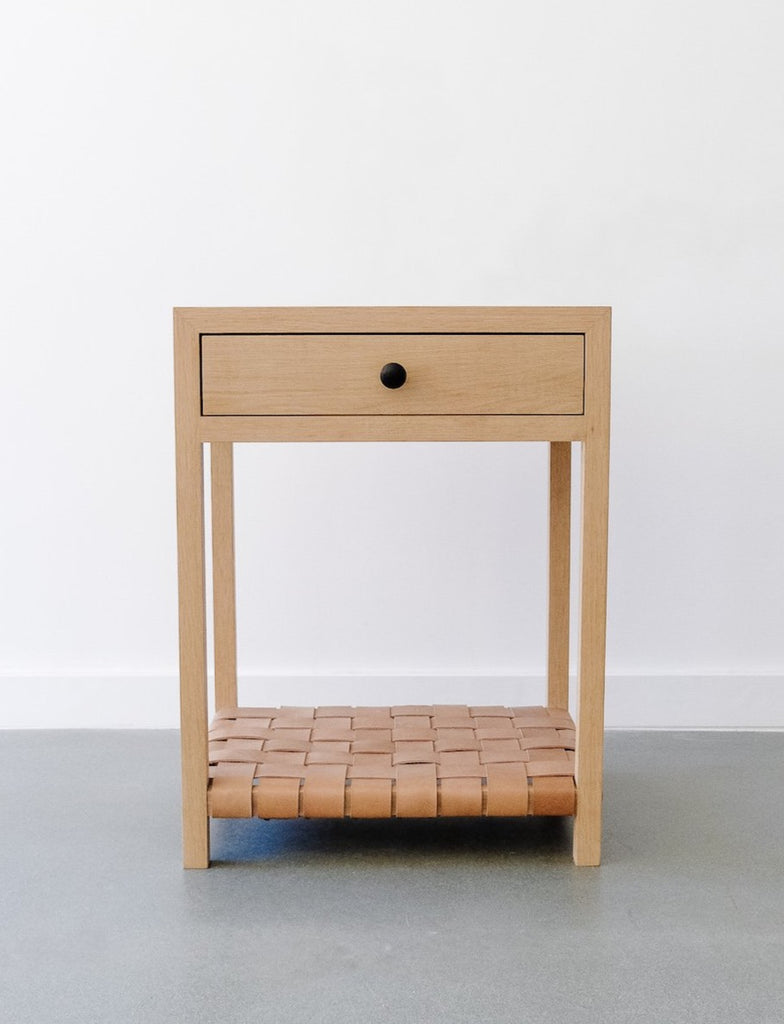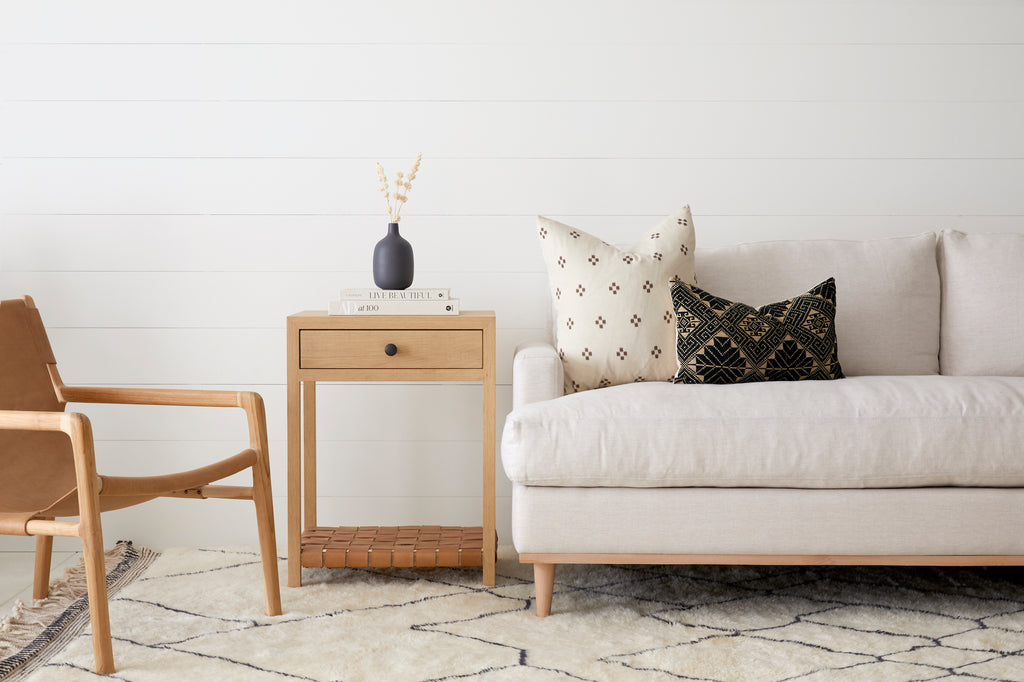 $2,950.00
$0.00
White Oak Side Table
Handcrafted in California
In Stock
STORY + DESCRIPTION
Crisp lines, an airy open frame, and the organic softness of leather accents. Made with luxurious natural materials, this white oak side table adds sophistication and a natural warmth to your bedroom or living space. Designed for form and function, it features a practical soft close drawer to tuck things out of sight and an open storage shelf made with our signature leather strapping. Its frame of white oak has a soft matte finish to showcase the wood's natural color and grain. Drawer pulls feature a hammered matte black finish. Inspired by the natural beauty of our coastal home and designed for everyday luxury, this side table is the epitome of our California casual style.
These side tables are masterfully built in California with expert joinery from the highest quality white oak and full grain leather. They feature mitered case construction that produces a waterfall grain effect between the top and sides. The wood is finished with an all natural oil + wax blend. Our California Furniture makers are a team of brothers based in Half Moon Bay Ca. They specialize in building custom pieces and working with natural materials to enhance and highlight their innate beauty.
In Stock
DETAILS + DIMENSIONS
Wood Finish: White Oak
Leather: Beige Full Grain Leather
Dimensions:
21" W x 16" D x 28" H (pictured)
Cleaning: Spot clean leather with a dry cloth. Wipe wood with a damp cloth and dry immediately.
There are some leather protectants on the market that can be used to minimize the risk of water markings. Here is a link to one of the highest recommended products we've encountered. As with any natural material, products can affect each piece differently. We recommend testing it first on a small, non-visible area before applying to the entire piece. No product will make leather entirely resistant to water and oil stains.
SHIPPING + RETURNS
Shipping Time:
Approx. 2-3 weeks to ship within CA, and 3-6 weeks anywhere else in the US
*Note that shipping ranges listed are estimates.
This item is not eligible for returns.
Shipping Cost:
$150* - California Flat Rate Delivery
$350* - Domestic Flat Rate Delivery
*Some exclusions apply.